It had already been a challenging couple of years for San Francisco landlords, with political developments regarding sales, evictions and rent control coming into effect, seemingly one after another – but COVID-19 is a health and economic crisis of another magnitude. Mass unemployment hits the city's rental market extremely hard: Tenants paying the highest rents in the country often move quickly if their jobs are lost. The crisis has left many existing tenants unable to pay their rent, and new rules have severely limited landlords' legal options, though some of those are now being challenged in court. Market rent rates have been dropping and vacancy rates increasing, in a manner reminiscent of the period after the dotcom collapse, another time of sudden, high unemployment.
With all this occurring, it is not surprising that sales activity for multi-family income properties has plunged in the last quarter, and to a large degree, we have little choice but to wait for the situation to settle and clarify. Shelter in place rules make it virtually impossible to show occupied units. With reduced sales volume, it becomes more difficult to reliably assess market values, but so far, there has been no precipitous drop. Even with rent declines, occupied apartments generate high income streams, and interest rates have hit all-time lows. And, of course, vacant units in smaller buildings often appeal to owner-occupier buyers. Though COVID-19 has temporarily affected many of the things that residents love so much about the city, San Francisco remains a financial, technology and cultural capital.
Long-term investors who have avoided over-leveraging their properties have ridden out several economic crises over the last 30 years and will do so again. There will almost certainly be opportunities for savvy buyers.
Supply & Demand Indicators
by Month or Quarter
Sales Breakdowns – 12 Months of Sales
2-Unit Building Values
(Not enough 3-4 unit building sales in
Q2 for reliable analysis)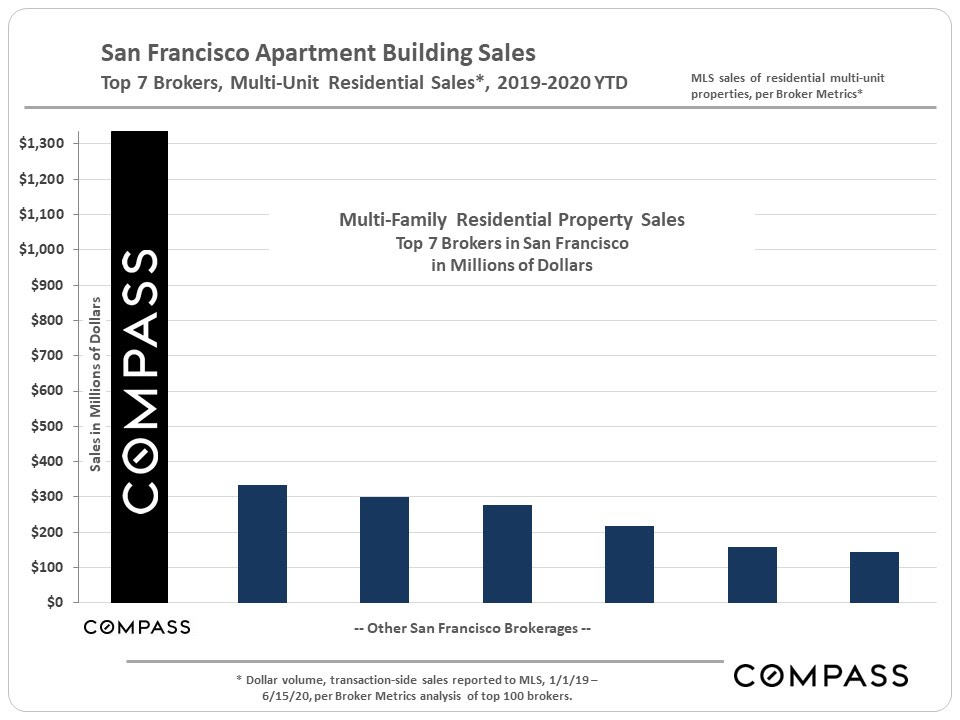 Sales Breakdowns – 12 Months of Sales
2-Unit Building Values
(Not enough 3-4 unit building sales in
Q2 for reliable analysis)
Source: Compass
It is impossible to know how median and average value statistics apply to any particular home without a specific comparative market analysis. These analyses were made in good faith with data from sources deemed reliable, but may contain errors and are subject to revision. It is not our intent to convince you of a particular position, but to attempt to provide straightforward data and analysis, so you can make your own informed decisions. Median and average statistics are enormous generalities: There are hundreds of different markets in San Francisco and the Bay Area, each with its own unique dynamics. Median prices and average dollar per square foot values can be and often are affected by other factors besides changes in fair market value. Longer term trends are much more meaningful than short-term.
Compass is a real estate broker licensed by the State of California, DRE 01527235. Equal Housing Opportunity. This report has been prepared solely for information purposes. The information herein is based on or derived from information generally available to the public and/or from sources believed to be reliable. No representation or warranty can be given with respect to the accuracy or completeness of the information. Compass disclaims any and all liability relating to this report, including without limitation any express or implied representations or warranties for statements contained in, and omissions from, the report. Nothing contained herein is intended to be or should be read as any regulatory, legal, tax, accounting or other advice and Compass does not provide such advice. All opinions are subject to change without notice. Compass makes no representation regarding the accuracy of any statements regarding any references to the laws, statutes or regulations of any state are those of the author(s). Past performance is no guarantee of future results.